Details

Written by

Dave Overton
Details

Written by

Dave Overton
Checking Email settings on an Android Phone.
I am using my phone, its an Google Pixel XL, with Android Version 10 on it. If yours isn't like this, complain to your vendor that they need to upgrade you. Otherwise, yours at least should be similar.
The very first screen is the "Settings". To find it, find the App called Settings, or drag the top of the screen down and find the small gear that gets you here. Open Accounts (mid way down the screen probably)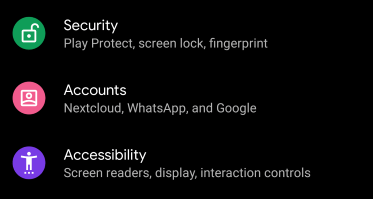 Now you get this next screen: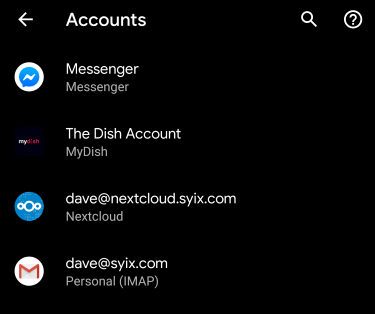 Find the one that looks like mine, but of course your name in the email field. Open it.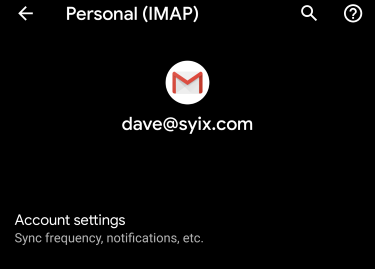 Now open the "Account Settings" and see this: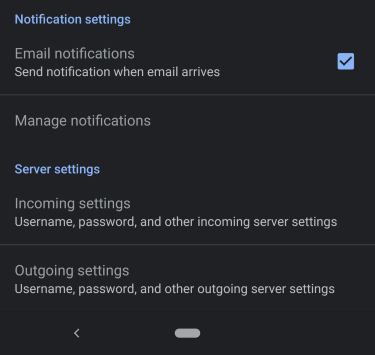 Down there on the bottom are the mail server settings. Open the one you need help on, they are both shown next:
First the incoming settings. Your Account settings are on a seperate email, but should look like these mostly.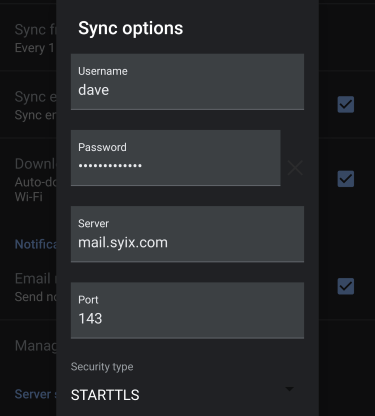 For the outgoing email, again, your settings are on a seperate email, but mine look like this
After clicking DONE you should get no errors, and the mail should flow again.
Enjoy!
Details

Written by

Dave Overton
Tech Support Scams are getting a lot of news lately, and we have fielded quite a few calls from people with "this is windows, your computer is infected" type calls, or big scarey flashing lights and sirens telling them to "stop and call us!"
Don't call them, if they call hang up. Thats the entire rule you need to remember.
You aren't infected, but you let them in, you will be. Here is a few sites with accurate information if you need more.
Just remember, nobody can tell what is going on with your computer except you.
SYIX
Details

Written by

Dave Overton
Today there was a lot of scarey stuff released about WiFi! KRACK is a new and fun way to replace the Wifi key your computer or phone has setup with the router, which allows someone to force your devices to act unsafe. Lets relax a bit, but be aware.
The immediate danger is that someone is tracking your login with a redirect to a non-ssl site. So, make SURE that if you are entering a password, the page you enter it on has a little lock up there. A nice pretty green lock and says all is still locked up and using secure protocols. More patching will follow over the next few weeks, Microsoft and Apple both say patches are forthcoming, Android phones since version 6. will be updated soon. Just be safe!
If you have questions, we really don't have any other answers yet. Patches are forthcoming from all the vendors (it appears) so in a few weeks this will be old news again.
Remember, it requires someone else be on YOUR network to see the packets. So if you are at home, you are probably fairly safe, but in a public hotspot you are very much NOT safe.
Details

Written by

Dave Overton
CCleaner, a wonderful little program many of you have used and loved, was compromised at the source for a while.
Details

Written by

Dave Overton
In 1995 we started. We started fast, we got faster. Then... DSL! OMG it was fast. SO FAST. Then it changed. Not the DSL, the internet. Watching movies? Really! I can remember when YouTube buffering was normal! Got to fix this! Find a way. Company XIf starts selling fast internet, with limits? Seriously, we didn't want limits in 1995, why do they think we need them now. Company AT thinks limits are great, so they do it too!!!
Syix has to be
Better, stronger, faster.
We want it all!
SPEEDS from 3 to 75 Mb.
NO LIMITS
WIFI in your house, included
INTRODUCING!!! direct from SYIX, starting low at $49.95
HIGH SPEED INTERNET
NO LIMITS
WIFI Included!
Taking reservations today!
Details

Written by

Dave Overton
You have seen the ads, Magic Jack, Vonage, etc. Well, now SYIX is offering an easy WORKING way to get VOIP telephone service for your home or office.
Why VOIP? Average monthly billing for a residential line, with ALL features, is around $5, including Long Distance in the USA. All features, Call Waiting, Conference, Voice Mail, etc are in there. Average monthly bill from ATT for "phone service" is $60+ with Call Waiting, etc. And its VOIP too in many cases. SYIX isn't in the phone business, we are just helping you find a way to turn off the old ATT land line and move on to modern VOIP phone service. Signups are done on the phone or in the office, but you can maintain the service at the login link below.
Recommended Inexpensive VOIP Adapter: OBi200 VoIP Telephone Adapter and Voice Service Bridge
Check Available Phone Numbers and International Rates: Numbers and International
Regular VOIP Client Access: Login Page
FREE! Stop Robo Calls! https://www.nomorobo.com/ works great with VOIP
Commercial Service
PHONE NUMBERS $2.00 each monthly
e911 add $1.50 monthly
Usage (per Minute, billed in 6 second intervals) $0.011 in USA.
Toll Free Numbers Available, ALL services included
RESIDENTIAL ONLY
Monthly Rate: $3.95 :: 60 Minutes Included
e911 Included
Nationwide Calling $0.011 (both directions!) per minute.
One Time Setup $1.75
CURRENTLY FREE Number Porting, most numbers can be ported to VOIP so you can keep your old number. Call us about this before you make any changes with ATT!